If your board creator delivered a Kudoboard to you through our email system, we send you an email shortly thereafter (within an hour) to allow you to thank board contributors.
Within this email, you will have the option to reply to all contributors who provided their email address when posting on your board.
To send your thank you message:
1. In your board delivery email, click the link provided for you in the email titled "Thank your Kudoboard Contributors"
2. On the page that opens, write your thank you message(s). You may choose to send the same thank you message to all contributors or send a personalized thank you to each contributor by toggling between "Send as a group" and "Send individually," as shown below: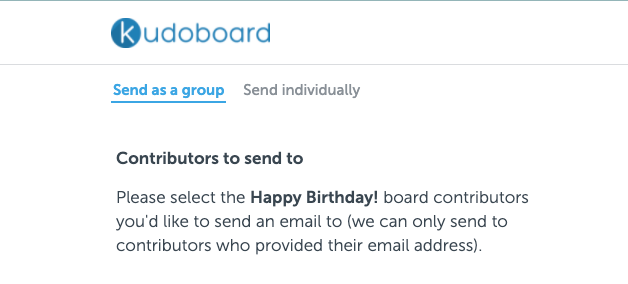 3. Click Send email now to send your thank you message to contributors.
Please note that those who posted anonymously (without creating an account) will not receive this thank you email.