Introducing confetti! Most board types now have confetti as an available option.
What is it?
When the confetti setting is toggled on, confetti will fire if the board is being viewed as a recipient. Click the eye icon to get to recipient view.

Toggling on confetti is a way to add flare to your board, particularly for the moment when the recipient first opens the board.
Where can I find the confetti setting?
Click the settings button that looks like a gear icon.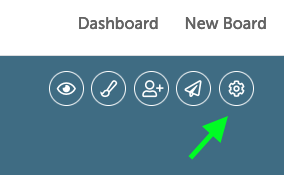 Scroll down to the Appearance section. Confetti is located under Font.

How do I turn on or off the confetti setting?
Click the bar to the right of Confetti. Grey means the setting is off and green means it's on. This setting can be modified at any time, as long as the board isn't locked.
Once you've toggled on the confetti setting, take a moment to invite contributors and schedule delivery of the board.