There are a couple of great options for delivering your Kudoboard to the recipient:
1) Send a direct link to the Kudoboard via email, text, FB message, or any other service used to communicate. Getting your Kudoboard link can be done by logging in and going to your Dashboard. From there, click on the name of your Kudoboard or View Board, and then copy the link.
2) Send the Kudoboard via kudoboard.com by scheduling delivery.
How to Schedule Online Delivery of Your Kudoboard:
-Log in to kudoboard.com. At the top right, click Dashboard.
-Scroll down to the board you created. On the right side of the page, click View Board.

-At the top right, just above the title for your Kudoboard, you'll see several tools that are represented with different icons, such as an eye, a brush, a person, a paper airplane, and a gear. Click the paper airplane. This is the schedule delivery button.

-Here is where you'll fill in the recipient's name, email, and an optional message. Then click Schedule Delivery.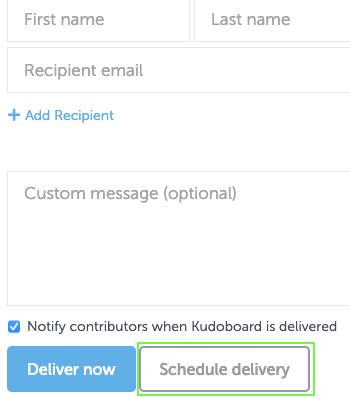 -Almost done! Now fill in the delivery date, time, time zone, and whether you'd prefer automatic or manual delivery. Then click Save Changes.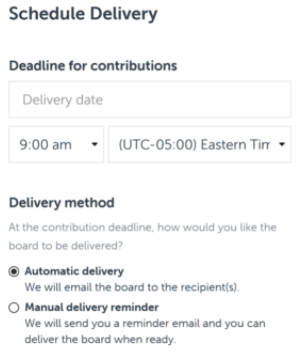 You're all done! After clicking Save Changes, your delivery status will automatically update to Scheduled.