Here are details on how to print and ship your Kudoboard as a poster:
1. If you are currently viewing a board in editor mode, click View as Recipient (eye icon on the top right side of board). If you see a pencil icon instead of an eye icon, that means you are already in recipient view and can skip to step two.

2. Click the Download or Print button that looks like a printer.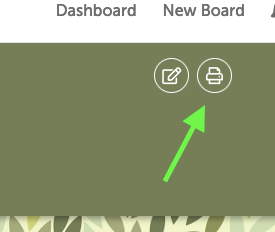 3. Make sure Poster is selected.

4. Select your preferred Print Size, and then select Print and Ship.

5. Next, select Calculate Price and click Order Print.
6. After clicking Order Print you will then add the shipping details and complete payment for your poster print.
Our posters are printed on durable semi-gloss paper and are 12", 24", or 48" wide. Shipping times for posters range from 1-2 weeks.
Additional details on posters and poster shipping.