Absolutely! A member of our team would be happy to edit your entire book layout and resolve all errors. We guarantee being able to edit the book layout within one business day.
We will email you once we have finished editing the book layout. You can then make any desired edits and proceed to order the book.
Please note that you have access to the same exact editing features as Kudoboard. We make all edits on the Customize Your Book page and do not have access to any extra editing features.
Important: Please make sure to NOT order the book until editing is done and you are 100% happy with the book layout.
Pricing: We offer book editing as a paid service for 50% of the cost of the book. For example, if the book is $40, the cost for us to fully edit the book would be an additional $20.
The cost of the book can be seen by clicking the Download or Print button that looks like a printer and clicking Book.
Please note that our editing service is limited to the book draft itself; all content on the board itself should be finalized by the book purchaser before requesting our book editing service.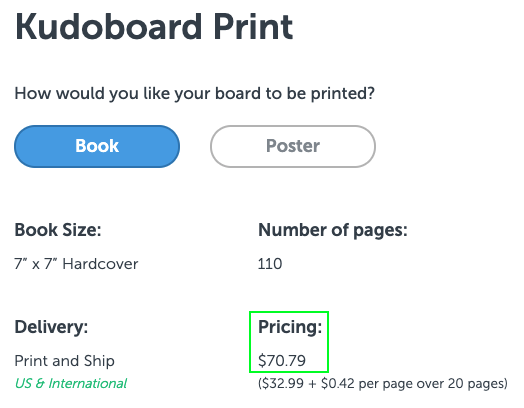 If you would like to have us edit your book, please email us at help@kudoboard.com with the board link and the email address you use to log in. We will then email you an invoice and upon receiving payment will proceed with fully editing the book layout.
Read more about Kudoboard books here.